Thrift Store Tips: Finding the Practically Perfect in Every Way Purse
Who doesn't love a new bag? Whether it's a clutch, shoulder, crossbody or tote, a new purse adds style and function to your wardrobe. We've got tips to help you find the perfect purse for you!
Buying your new purse from a thrift store will save you big. But how can you make sure you get a good bag for your buck? Below are just a few things to look for when shopping for secondhand handbags.
1) Get Strappy Happy
When purchasing a purse, be sure to inspect the handles. Often times, this is where wear will be evident. Make sure the handles are firmly attached to the bag and look for fraying along the handles themselves.
2) Look at Lining
The lining of a purse can take a beating. From pen leaks to crushed candy canes to rips along the seams, the lining of a purse can be a bit worse for wear. Some lining issues can be fixed with a spin around the washing machine or even needle and thread. Make sure the wear and tear is something you can live with.
3) Beware of the Bottom
Purses get plopped down and dropped into all sorts of messes. Many hard bottom purses suffer from water damage or permanent stains. Also, inspect the bottom for possible weakness in the seam or rips. You don't want the bottom to fall out of your bag.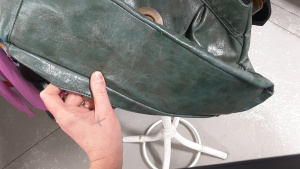 4) Scent of a Bag
Stick your sniffer into the bag before purchasing. Often times, bags pick up the scents from their owners - from leaky perfume bottles to cigarette smoke. Not all scents can be eradicated from a handbag. Smell before buying.
Do you have any purse buying tips? We would love to hear your experiences! Share your tips on our Facebook page at .