Parent-Tot Drop-In, a Family Resource Program, is a free program that offers a stimulating play group for children birth to six.
The play groups meet indoors as well as in local community parks. It is a place where parents can take a break from the home routine, connect with other parents and caregivers and have fun playing with their children. Families can access community resources, parenting information and one on one support in a warm and inviting space. Child care providers and the children they care for are also welcome to attend the Drop-In program.
What you can expect from the program
You will find a well-equipped and safe playroom, with quality toys and equipment intentionally chosen with the developmental needs of children 0-6 in mind. Parents will meet caring and qualified staff who create space for parents and caregivers to connect with their children and increase their parental capacity.
Tea and coffee are served and a healthy vegetarian snack is provided at each Drop-In group session.
Additional programming such as Mother Goose Story and Rhyme groups, Infant Massage, Circle of Security Parenting, in person and virtual cooking groups and family evenings are also held throughout the year.
We recognize the diverse needs and abilities in our community and welcome feedback from families. Participants are welcome to participate in the program by sharing skills and ideas during program time.
How you can take part
Parent-Tot Drop-In is open to anyone who has a child from birth to six. We are located at:
Gibsons
Gibsons & Area Community Centre, 700 Park Road, Gibsons
Wednesdays - 9:30 am -11:30 am (outdoor program at Dougal Park, Gibsons)
Thursday, Fridays and Saturdays - 9:30 am -11:30 am
Sechelt
The Family Place, 5520 Trail Avenue, Sechelt
Mondays - 9:30 am - 11:30 am
Thursdays - 1:00 pm - 3:00 pm (outdoor program at Hackett Park, Sechelt)

Drop-In will be closed on statutory holidays for staff training days or in the event of heavy snow or power failure. Closures will be posted in advance when possible. Modified summer hours are also offered. Please follow Bellies and Babies/Parent Tot Drop In (Sunshine Coast, BC) on Facebook for regular updates.
What's On
Happy New Year, everyone! Our Bellies and Babies program and Parent-Tot Drop-In programs have lots of exciting events scheduled for 2022. Programs are geared to families with children 0-6, siblings are welcome! However, to protect the health and wellbeing of staff and participants along with the tighter restrictions required in the latest PHO, our Winter programs will not start up until Monday, February 7. We can't wait to see you all soon! Until then, get outside and enjoy the winter weather and check our Facebook page and website for updates!
Meanwhile, our staff are still here to support you and are available if you need us. Please call Shirley on 604-865-1108 or email sfrench@sccss.ca.
---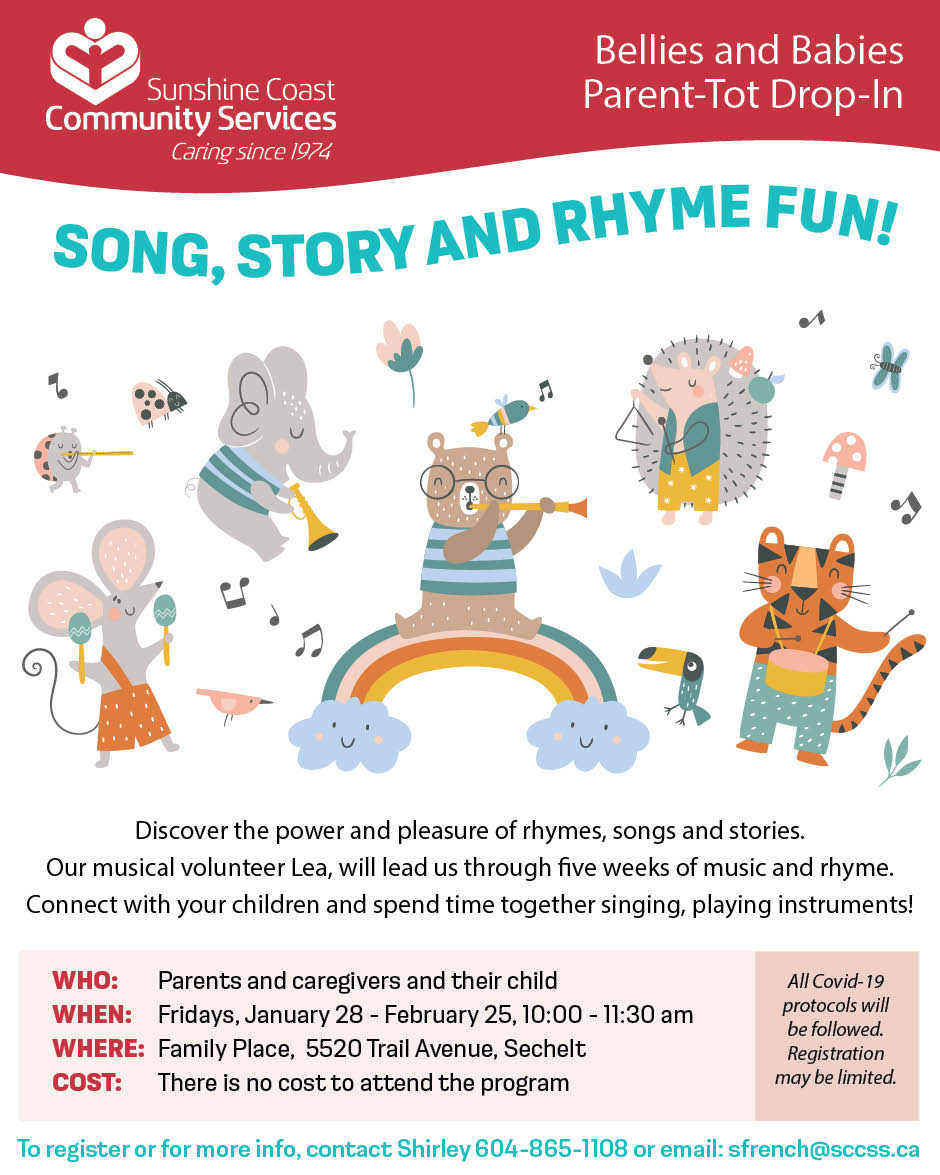 ---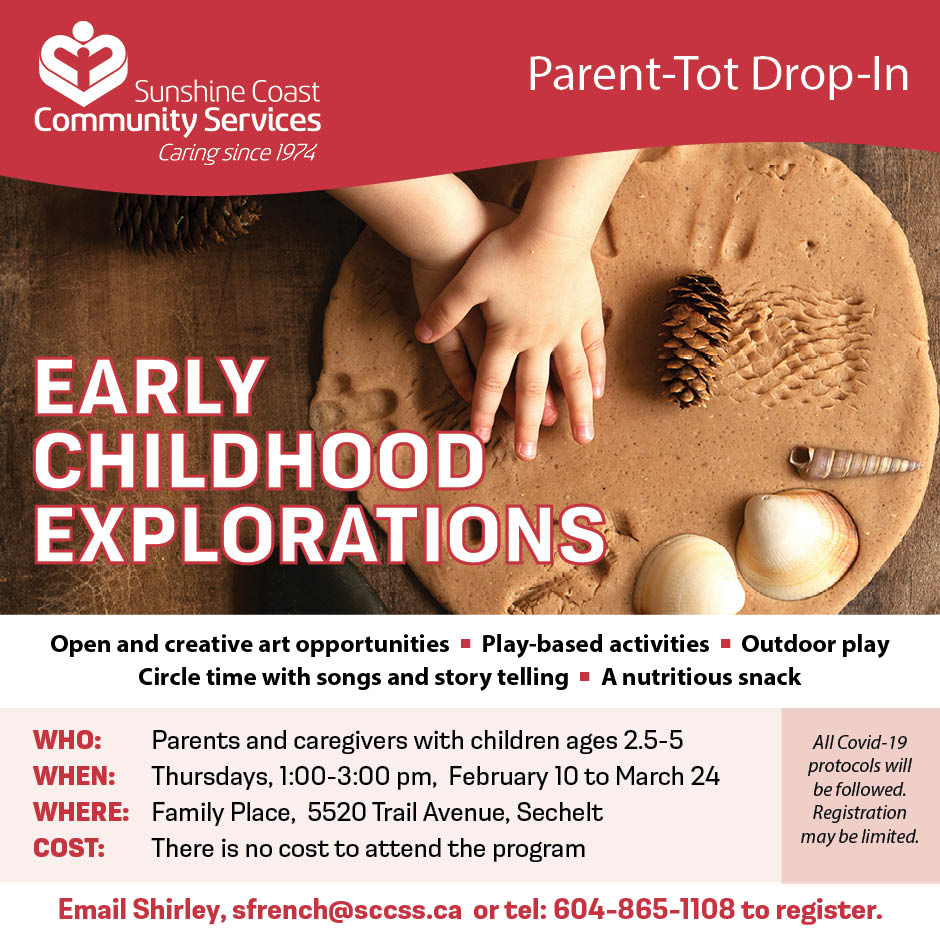 This program is funded by the Public Health Agency of Canada; MCFD; the Jean and Arthur Clarke Foundation; Town of Gibsons; SCRD; Sunshine Coast Foundation; Community Foundations of Canada (founding partners of the Equality Fund); parents, and community donations.

Program Contact Information
Shirley French, Family Resources Lead
Gibsons
Fridays and Saturdays 9:30 am to 11:30 am
Wednesdays and Thursdays 9:30 am to 11:30 am at Dougal Park
Gibsons & Area Community Centre
700 Park Road, Gibsons B.C
V0N 1V7
Sechelt
Mondays 9:30 am - 11:30 am
Thursdays 1:00 pm - 3:00 pm
The Family Place
5520 Trail Avenue B.C
V0N 3A3
Please Note: Drop-In will be closed on statutory and school holidays and may be cancelled in the event of heavy snow (if the school buses don't run we will be closed) and power failure.