Thrift Store Shopping Tips: Clothes
Who doesn't love new-to-you clothes for a quarter of the cost of brand new? But how do guarantee a good buy? Here are a few things to look for when thrift store shopping!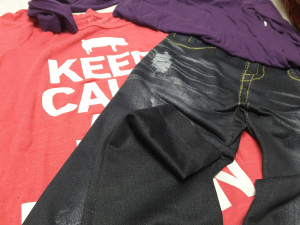 Who doesn't love new-to-you clothes for a quarter of the cost of brand new?
Buying clothes from your community thrift store has many benefits. Thrift stores recycle pants, shirts, and jackets back into the community -- keeping unwanted clothing out of landfills. Proceeds from sales benefit local organizations, charities and food banks.
Plus, thrift store clothing gives new life to your closet at a fraction of the cost.
Every day, volunteers at Community Services Thrift Store sift and sort through several bags of donated items a day.We examine each article of clothing before putting it on a hanger and onto the store floor.
Knowing what we look for during processing will help you next time you go thrift store shopping. It will also help you determine what items from your closet would be great candidates for donations.
What to look for when shopping for clothes at thrift stores:
Sweat marks on the back of the collar or armpits
General stains in the front or along the bottom of sleeves
Fabric wear along the hems, seat/crotch of pants, knees or elbows
Fading (common in blacks and bright colours like red)
Rips or tears, especially in fabric that will continue to fray
Missing buttons or faulty zippers
The number one issue we see in donations is sweat marks (ring around the collar or armpits) and discolouration. This can't be fixed with washing or a needle.
Additional thrift store clothing shopping tips include:
Smell check. Not all smells come out easily from clothing
Try it on. Clothes are worn in and just because it is your size, doesn't mean it will "fit" your body
Buy it if you like it. Thrift store clothing is a deal, but that doesn't mean it has to add to the clutter in your closet. Love it? Buy it. Any hesitation? Leave it for someone else to love.
Do you have any tips for thrift store shopping? We would love to hear them! Share them with us at facebook.com/CommunityServicesThriftStore