The most vulnerable members of our community are in real trouble. Across the Coast, many median-earning households are priced out of home-ownership while many renter households struggle to find affordable and available long-term rentals. Homelessness is on the increase, with shelters at capacity and wait-lists for supportive housing that stretch longer than the current spaces provided.
In 2021, Sunshine Coast Community Services will embark on a mission to support those who need us most - Building Together. We will build new, affordable housing specifically for women and children on top of a redeveloped space for our support programs the entire community can access.
Building Together will make our community safer and more resilient - because when our most vulnerable are taken care of, we all benefit.
---
Download our Case for Support and find out more about our plans to make a stronger, safer Coast for all.
---
Imagine waking up EVERY day worrying about paying your rent and whether or not you'll be homeless next month. Imagine having to make the hard choices between paying your utility bills and buying groceries.
For many on the Coast, especially women and children, this is a reality. 55% of children living with single parents on the Coast are living in poverty. That is 1,100 children and their families, struggling every day. They are your neighbours. They are the people who serve you at the grocery store and your favourite restaurant. The people you say hello to on the street. Many of these people are women with young children and they are struggling to keep it together.
The COVID-19 crisis has highlighted the vulnerability of thousands of our community members. Those at most risk are children, single mothers and women over 50. Often they struggle to meet the fundamental needs of safety, food and housing - things that most of us take for granted.
Rental housing on the Coast is expensive and in short supply. Employment options are limited, with many jobs barely paying enough to support the basic living expenses of an individual, let alone a young family. We know that affordable housing and access to support programs play a key role in keeping our entire community healthy and safe.
We are now embarking on an essential mission to support those who need us most. With your help, we will build new, affordable housing specifically for women and children on top of a redeveloped space for our support programs the entire community can access. Our Building Together development will be built on land we own in downtown Sechelt, and with our thoughtful design and community approach, will revitalize our neighbourhood into a safe and welcoming area for all.
Government funding will cover much of this project cost, but we need to raise another $3 million to ensure we make this desperately needed new facility a reality. We need your support.
The proposed development will embrace a mix of women including single women, women and children, single women who are older, and young women who are aging out of care; creating a community of women and families who have similar life experiences such as struggles with homelessness, poverty and experiences of violence/abuse.
Priority will be given to women and children who currently live on the Sunshine Coast and to those who were forced to leave the Sunshine Coast in search of safe, affordable housing, but who still have family and support networks on the Coast. This development will bring the majority of SCCSS programs located in Sechelt to one main location. This will reduce barriers to service and increase opportunities for individuals and families, particularly for those with complex challenges, to access a variety of services in one location.
NOTICE OF PUBLIC INFORMATION SESSION
Sunshine Coast Community Services Society (SCCSS) invites you to attend a second virtual Public Information Meeting to learn about the rezoning application for our redevelopment project at 5638 Inlet Avenue, Sechelt.
Project Name: Rezoning Application for 5638 Inlet Avenue (Sunshine Coast Community Services)
Date: Dec 8th, 2020
Time: 6:00 pm
Location: Virtual meeting to be held via Zoom. - Register here.
For more information on how to particpate visit the District of Sechelt web site here.
Purpose of Public Information Meeting:
WHAT'S PROPOSED
To rezone the subject property to facilitate a 22.0m or six-storey mixed-use building with 34 affordable rental units and two floors of office use.
AFFECTED LANDS
5638 Inlet Avenue
Block P District Lot 303 Plan 14919 and
Lot 36 Block G District Lot 303/304 Plan 15854
BYLAW
Zoning Amendment Bylaw No. 25-304, 2020
More information on the proposed amendments and associated documents may be viewed at the Current Development Applications page.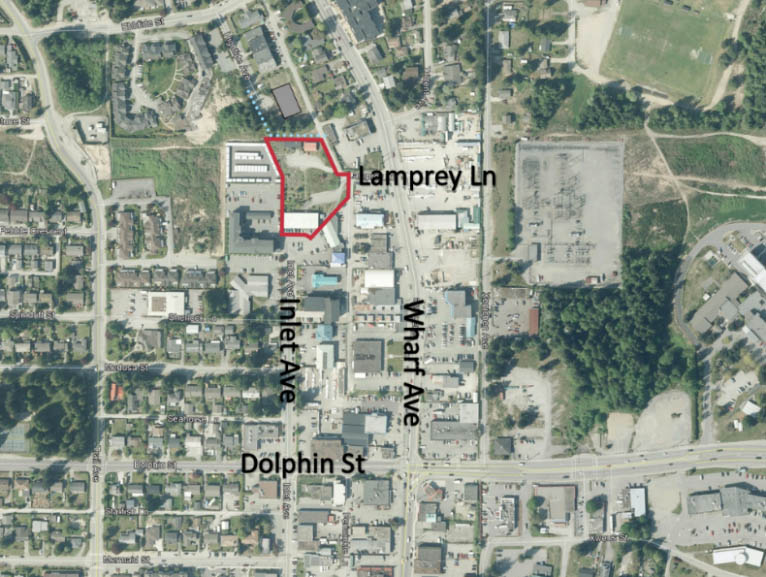 Contact Information: Questions may be submitted during the meeting or emailed in advance to questions@sccss.ca. You may also phone 604-885-5881 to submit your question over the phone ahead of the meeting. Answers to questions will be on the web page as well as a link to a survey to be completed by session attendees. The District of Sechelt can also be contacted by email at planning@sechelt.ca or by phone at 604-885-1986 ext. 8459.
---
If you were unable to attend the Public Information Session but would still like to take part in our community engagement, we invite you to watch this video recording of the meeting.
---
Let us know what you think: SCCSS has developed a survey as part of its public engagement strategy to connect with as many members of the community as possible. Following the Public Information Meeting, we invite you to complete our survey - we value your feedback about this project.
Click here to complete the survey.

LATEST NEWS
Oct 03, 2020 Assessment shows housing is getting harder to find and harder to afford
May 25, 2020 Women's housing project 'needed now more than ever,' public meeting hears
April 02, 2020 Six-storey housing project for Inlet Avenue gets first reading
Nov 29, 2019 Homes, hope on the way for women, children leaving violence
Nov 25, 2019 Women's housing project announced for Sechelt
June 6, 2018 Affordable housing for women, children
Dec 09, 2017 Coast housing crunch drives battered women back into abusive relationships
Background
Since 2016, Community Services has been involved in a number of conversations with the community regarding affordable housing. We have conducted a study on homelessness faced by women over the age of 50, met with representatives from municipal and provincial governments and sat on a number of forums discussing housing affordability and poverty on the Sunshine Coast. During our Strategic Planning process we invited community members to provide input on Community Services long-term plan. Affordable housing came up as a key issue facing the community and Community Services was identified as a local organization who should play a role in addressing this issue. We have held six public consultations about our affordable housing for women project including volunteers, participants, community gardeners, local businesses, our staff, and other community organizations. We will also host future engagements throughout this process to ensure this project reflects our community.
For more information, click here to read our Building Housing, Building Community brochure.
The following benefits will be provided through this development
34 units of affordable women's housing located at 5638 Inlet Avenue, Sechelt operated by SCCSS.
A redeveloped Community Services space that is purpose built and better able to accommodate our programs and to continue to meet current and emerging community needs
The addition of a commercial kitchen and food programming space to increase our community's access to nutritious food and foodbank services.
Increased safety and security of the neighbourhood through thoughtful design that will increase lighting, improve the pedestrian walkway, increase organized activities and build connections between neighbours.
Help us move this initiative forward
Stay informed: sign up for SCCSS E-news
Attend a future open house about this project
Share your support for this project with your neighbours
Email or write a letter of support for this project to the District of Sechelt (click here for a template)
Email buildingtogether@sccss.ca about capital campaign donations