Upcoming events with Deborah MacNamara, best selling author and child care expert
The Early Intervention team in partnership with CCRR are excited to present two special events with Clinical Counsellor and Developmentalist, Dr Deborah MacNamara, author of the best selling book Rest, Play, Grow: Making Sense of Preschoolers (or anyone who acts like one).
The first event on January 10 is the presentation "Rest, Play, Grow - Helping Young Children Flourish", suitable for parents and caregivers of your children. The second event, a two-part workshop on January 11, will focus on understanding frustration and aggression and making sense of anxiety. This event is suitable for child care providers and other early years and school-age professionals. To learn more about Deborah's work click here.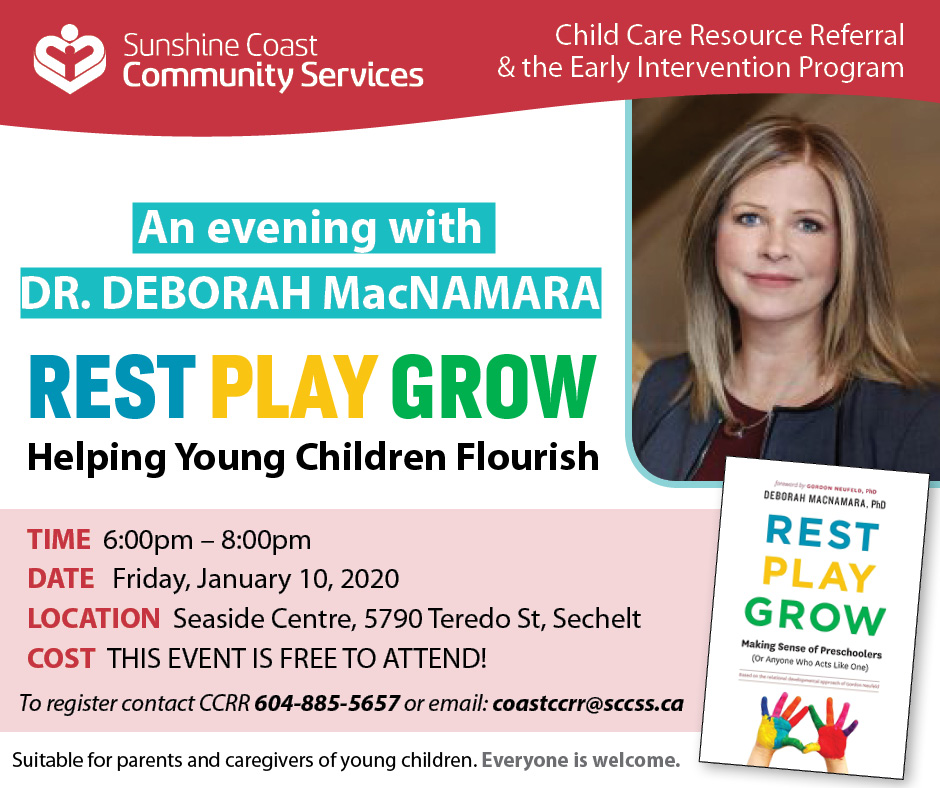 An Evening with Dr Deborah MacNamara
No one is more susceptible to being misunderstood than the preschooler. Precocious, brazen, obsessive, unreflective, dogmatic, generous, unstable, aggressive, resistant, compulsive and anything but consistent – the preschooler could qualify for any number of personality and behaviour disorders. Unlike infants and toddlers, preschoolers bear resemblance to grown-ups and therefore fool us into thinking that they are much more like us than they really are. Projecting our psychology onto them is a typical mistake. This presentation will address commonly misunderstood preschooler behaviour including resistance, frustration, attachment, the need for play, and impulsiveness and is presented by the Early Intervention Team in partnership with the CCRR.
TIME: 6:00pm – 8:00pm
DATE: Friday, January 10, 2020
LOCATION: Seaside Centre, 5790 Teredo St, Sechelt
COST: This event is FREE to attend.
To register contact CCRR 604-885-5657 or email: coastccrr@sccss.ca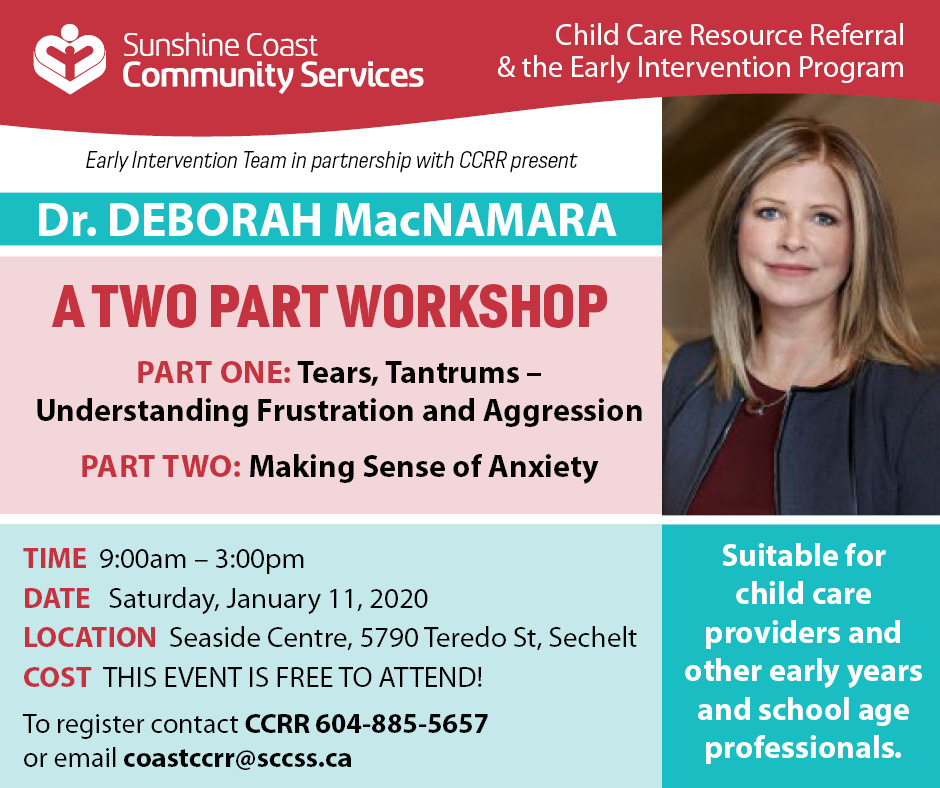 Two-part Workshop with Dr Deborah MacNamara
You are invited to attend a two-part workshop with Dr Deborah MacNamara. Dr MacNamara is the author of the best-selling book Rest, Play Grow: Making Sense of Preschoolers (or anyone who acts like one). She provides counselling services to parents and professionals to make sense of learning, behavioural, and developmental issues in kids – from babies to teens.
Part One: Tears, Tantrums – Understanding Frustration and Aggression
The expression of frustration and aggression in children and teens can take on many forms including temper tantrums and various forms of attack. Part of making headway requires understanding the roots of frustration and aggression and how to deal with the resulting behaviours. This presentation will focus on strategies for dealing with a frustrated child while preserving one's relationship to them. It will address the importance of setting limits and helping children learn they can survive futilities that are part of life.
Part Two: Making Sense of Anxiety
As many as 20% of children and teens qualify for an anxiety disorder diagnosis, making it the most common mental health issue today. Anxiety can take many forms including obsessions, compulsions, phobias as well as other perplexing behaviours. We cannot treat something we do not understand, and making sense of anxiety is fundamental in making headway. This presentation will bring a fresh and promising perspective to one of our most troubling human problems.
TIME: 9:00am – 3:00pm
DATE: Saturday, January 11, 2020
LOCATION: Seaside Centre, 5790 Teredo St, Sechelt
COST: This event is free to attend.
To register contact CCRR 604-885-5657 or email: coastccrr@sccss.ca