SCCSS Redevelopment - Notice of Public Information Session
Sunshine Coast Community Services Society (SCCSS) invites you to attend a virtual Public Information Session to learn about the rezoning application for our redevelopment project at 5638 Inlet Avenue, Sechelt.
For more information about our Affordable Housing for Women Redevelopment, click here.
Notice of Public Information Session
Project Name: SCCSS Redevelopment Incorporating Affordable Housing for Women
Date: May 20th, 2020
Time: 5:00 pm – 6:30 pm Meeting
Location: Virtual meeting held via Zoom. Join Zoom Meeting https://zoom.us/j/95002697224
---
Update
In case you missed it...
If you were unable to attend the Public Information Session but would still like to take part in our community engagement, we invite you to watch this video recording of the meeting.
Click here to watch the video.
---
Purpose of Public Information Meeting: SCCSS has requested a Zoning text amendment to the existing C-2 Zone to increase the height of the development from 3 storeys to 6 storeys (10.5m to 22m) to permit the mixed use residential and program/office space. This redevelopment project includes 34 affordable housing units for women and women with children as well as SCCSS program space including food programming, support programs for community members and revitalized outdoor spaces. This meeting would typically be done in person however COVID-19 has restricted the ability for large groups to gather. Through discussions with the District of Sechelt, SCCSS is providing a virtual opportunity for participants to learn about the proposal and participate in a question and answer session at the conclusion of the presentation.
Project Location: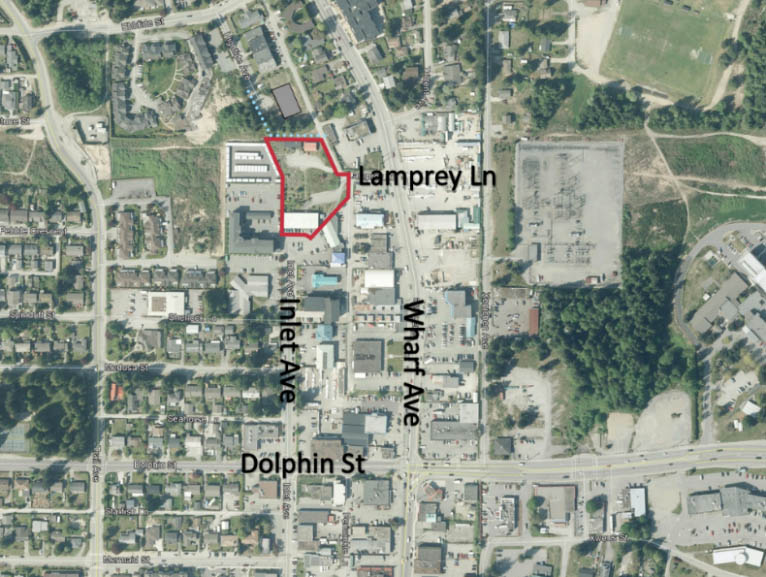 Contact Information: Questions may be submitted during the meeting or emailed in advance to questions@sccss.ca. You may also phone 604-885-5881 to submit your question over the phone ahead of the meeting. Answers to questions will be on the web page as well as a link to a survey to be completed by session attendees. The District of Sechelt can also be contacted by email at planning@sechelt.ca or by phone at 604-885-1986 ext. 8459.
Let us know what you think: SCCSS has developed a survey as part of its public engagement strategy to connect with as many members of the community as possible. Following the Public Information Meeting, we invite you to give us your feedback.
Click here to complete the survey.