Giving Tuesday - It's time for giving!
The need for our services is greater than ever. Will you help us reach our goal of $25,000 this Giving Tuesday to support our community members when they need it most?

Giving Tuesday - a time to give back.
Every year, on Giving Tuesday (the Tuesday after Black Friday and Cyber Monday), millions of people in Canada and across the globe show up, give back, and change their communities. The goal is to create a massive wave of generosity that lasts well beyond that day and touches every person in a meaningful way.
With the cost of groceries, rent, and other essentials at an all-time high, many families and individuals on the Sunshine Coast are struggling. Our services are at capacity at a time when people need them more than ever. When you donate to Sunshine Coast Community Services, you support crisis response, programs, housing, and advocacy for community members in need. Our 30+ programs are all about helping people, nurturing connections, linking them to resources, and building the support that enables them to thrive.
Will you help us reach our goal of $25,000?
When you make your tax-deductible donation to Sunshine Coast Community Services, your donation goes directly to supporting pregnant women and new parents, families, children, youth, adults, and seniors through the provision of crisis response, support programs, housing, and advocacy.
Help us where it's needed most so that our community can thrive!
Our impact
Together, we've already positively impacted the lives of many in our community! Here's just a fraction of how your donations helped us to deliver services in 2022:
299 Arrowhead Clubhouse members living with mental health challenges, addictions, and homelessness were supported in a safe, stigma-free environment

746 households accessed the Food Bank for essential food and supplies.

688 initial contact calls were received through our Yew Transition House 24/7 Access Line from women seeking resources and support.

210 seniors were provided with simple, non-medical support services so that they continue to live independently in their own homes through Better At Home.

438 victims of crime and other traumas received support and resources through Police Based Victims Services

408 families attended Parent-Tot Drop-In sessions - a space for parents to reduce isolation, build community, and enhance parental capacity.

258 new memberships enabled families to access our lending library through the Child Care Resource & Referral program.

176 families attended Bellies and Babies sessions and were provided with support, education, and community connection.

16 dads completed an 8-week program increasing their ability to have healthy relationships, boundaries, and parenting skills.

56 families were provided with parenting support through the Family Preservation and Reunification program.

134 families received counselling and parenting support through the Family Support Services program.

26 children and youth with experiences of violence supported and empowered through the PEACE program.
To see more about the impact of our programs and services, watch this video.
This year, we need your support more than ever.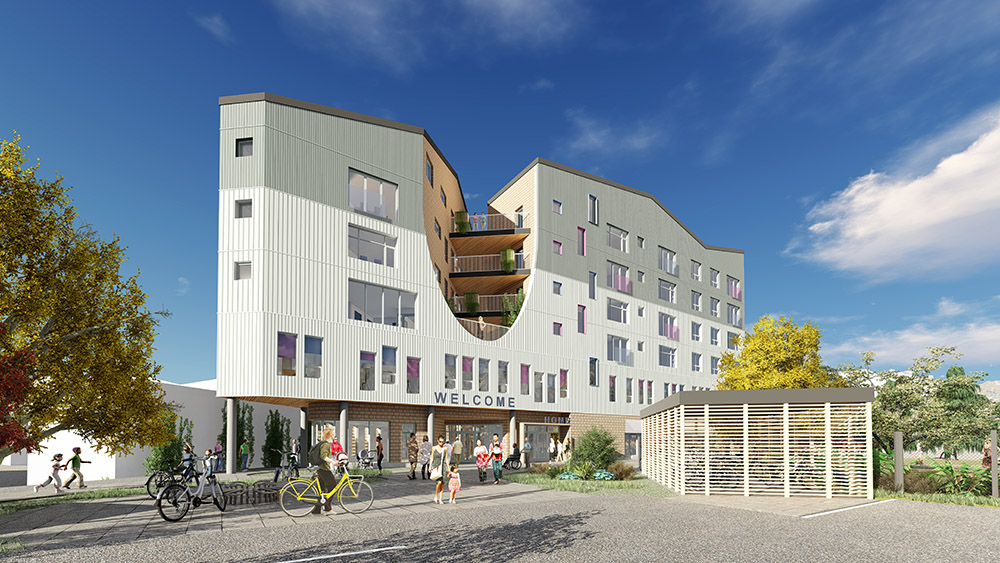 We are close to starting construction on our Building Together project - a new community services hub and 34 affordable housing units for women and women with children who have experienced or are at risk of experiencing violence or homelessness.
The community hub on the first two floors of the new development will provide a safe, warm, and welcoming gathering space. This space will provide support and prevention programs, foster community engagement and learning, and be a place of pride, inclusion, and belonging for the entire community.
Building Together will create a lasting positive change in our community. We have secured more than 80% of the funding - but we need your help to get this life-changing project over the finish line.