COVID-19 Financial Support Resources
Many in our community are worried about their living situation due to the COVID-19 health emergency. Community Services is here to support you.
There are many initiatives and programs being set up by both the provincial and federal government to provide financial assistance to Canadians during this time. The following chart provides a quick reference guide to programs being offered. Sunshine Coast Community Services Society aims to provide the most up to date information however new information may be released by our governments. We recommend also using the links below to the various programs to ensure you receive all the relevant information.
COVID-19 Economic Response Plan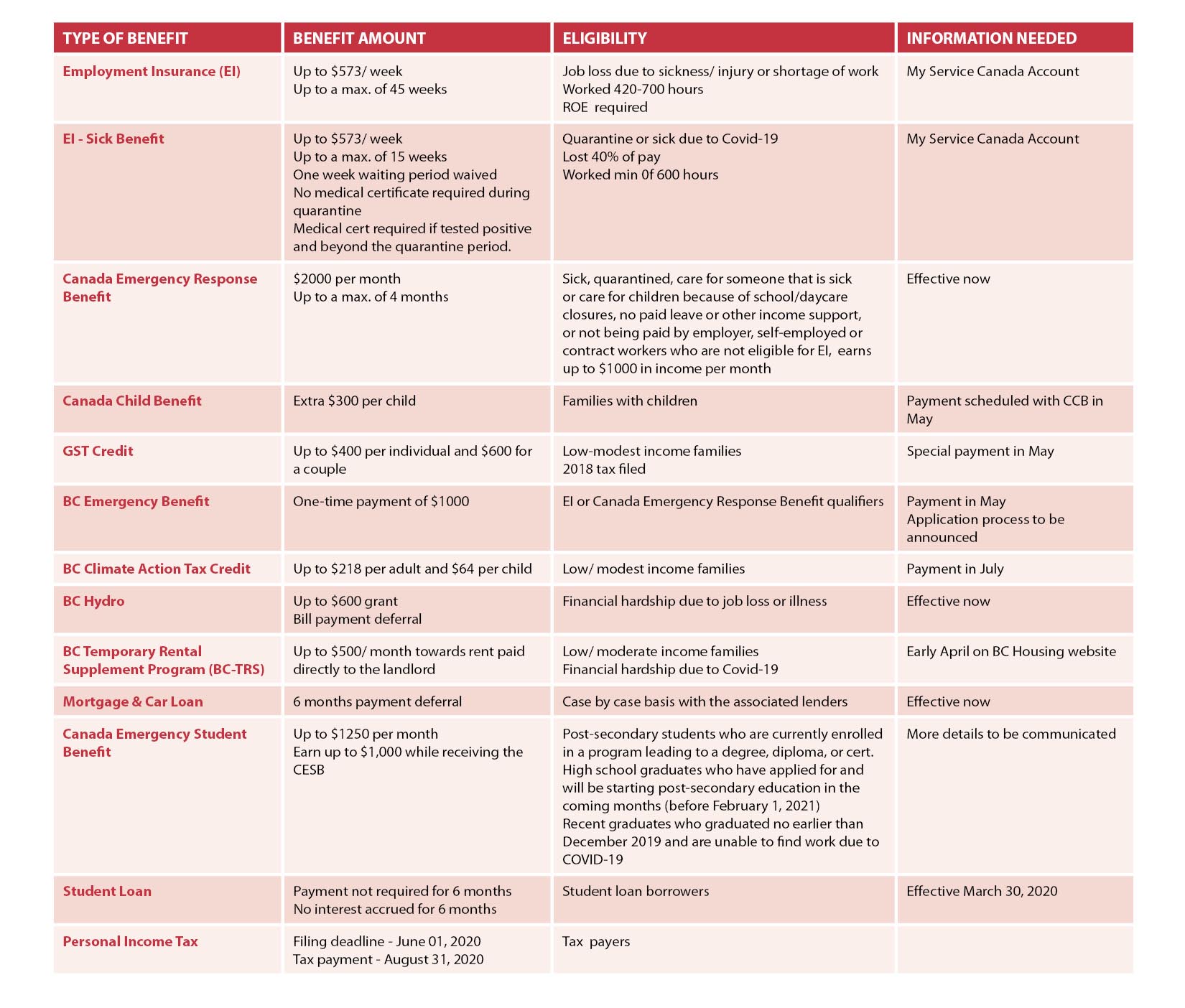 Keeping People Housed is a loan program to help with unexpected and temporary crises for rental arrears or essential utilities. Re-payment is made monthly through your bank account. The program is made possible in part from Sunshine Coast Credit Union, the Co-Operators and Sunshine Coast Community Services.
For more information about the program, eligibility requirements and how to apply, click here or contact Andrea at 604-865-0283 or email ahobbs@sccss.ca.
Federal Government Supports
The Government of Canada is taking immediate, significant and decisive action to help Canadians facing hardship as a result of the COVID-19 outbreak. For information about a range of financial supports you can access, click here.
Service Canada can help!
If an individual that you support requires assistance with one of our critical services and benefits, they can complete a service request form here. Once the service request is submitted, a Service Canada representative will contact the individual within 2 business days at the phone number they indicate. If your community members or individuals within your network do not have access to the internet or face other barriers, a Service Canada Outreach Support Centre will ensure they get access to the critical benefits they need. The outreach support center can be accessed by calling 1-800-631-2657. Outreach workers are available to assist from 8:30am to 4:00pm PST Monday to Friday.
Student support
The Canada Emergency Student Benefit (CESB), will provide income support to post-secondary students who have lost work opportunities due to COVID-19. Students who are not receiving the Canada Emergency Response Benefit will receive $1,250 per month for up to four months (May-August 2020). Students with disabilities, students with dependents would receive an additional $750. For further information, click here.
Provincial Government Supports
The B.C. government has announced a $5-billion economic action plan to help families and businesses struggling financially through the COVID-19 crisis, including one-time payments of $1,000 tax-free to people whose ability to work has been affected by the outbreak. For more information on provincial financial supports, including the link to the BC Emergency Benefit for Workers, click here.
Support for renters and landlords
The Province is introducing a new temporary rental supplement, halting evictions and freezing rents, among other actions.
The new rental supplement will help households by offering up to $500 a month towards their rent, building on federal and provincial financial supports already announced for British Columbians facing financial hardship. Learn more here.
COVID-19 and Tenancies - FAQs
The Residential Tenancy Branch (RTB) is here to support and protect the health and safety of the public while maintaining access to information and dispute resolution services. For FAQs about rent payments, evictions, rent increases and dispute resolutions, click here.
COVID-19 Support for Income and Disability Assistance
Due to COVID-19, new emergency measures are in place to ensure that people on income or disability assistance and low-income seniors, do not encounter additional barriers. For information including how to apply for Canada Emergency Response Benefit (CERB), the BC Bus Pass Program and more, click here.
Vulnerable people, including those experiencing homelessness
The Province is taking swift action to protect vulnerable people, including those experiencing homelessness, in communities around British Columbia. Read more about the Provincial Government's initiatives here.
Monthly Bill Supports
BC Hydro
BC Hydro has introduced a COVID-19 Relief Fund to help residential customers who have lost their jobs due to COVID-19. The Relief Fund provides you with a credit to your account to reduce your bill.
The credit will be equal to three times your average monthly bill.
You will not have to pay this back.
The application window opens this week and you can apply until June 30, 2020. This new fund is in addition to the other services offered:
The COVID-19 Customer Assistance Program gives you the option to defer payments or arrange a flexible payment plan to help you pay your bills.
The Customer Crisis Fund grant is a one-time grant for residential customers dealing with financial hardship of job loss, illness or loss of wages.
For more information, click here.
Fortis BC
Fortis BC has a range of measures in place to support customers who are facing financial hardship due to COVID-19. This includes the Customer Recovery Fund, flexible payment options, waiving late payment fees and suspending disconnections. Find out more here.
ICBC
ICBC recognize the financial impact COVID-19 may have on their customers and want to provide some relief during this challenging time. Customers on a monthly Autoplan payment plan, who are facing financial challenges due to COVID-19, can defer their payment for up to 90 days with no penalty. Find out more here.
Telus
Telus has been recognized as an essential service and has a range of measures in place to protect and support customers including waiving home internet overage charges and offering flexible payment options. Find out more here.
Student Loans
To help people with B.C. student loans, the Province is freezing B.C. student loan payments for six months, starting March 30, 2020. Federal student loan payments are being frozen as well.
We will update this page as more resources are announced. If you wish to speak to someone, please call us 604-885-5881 or one of the following resources:
Women in distress: Our 24-hour access line remains open 604-885-2944
Mental health or addiction support: VCH Mental Health at 604-885-6101 (Mon-Fri)
24-hour Sunshine Coast/Sea to Sky Crisis Line: 1-866-661-3311
Seniors Distress line: 604-872-1234