Children's Festival & Duck Pluck Returns June 23, 2018
The Children's Festival and Duck Pluck returns on Saturday, June 23, 2018 at Dougall Park from 10am - 2pm. This year's event, sponsored by Sunshine Coast Credit Union and the Co-Operators, will feature a guest performance by the JUNO winner Norman Foote!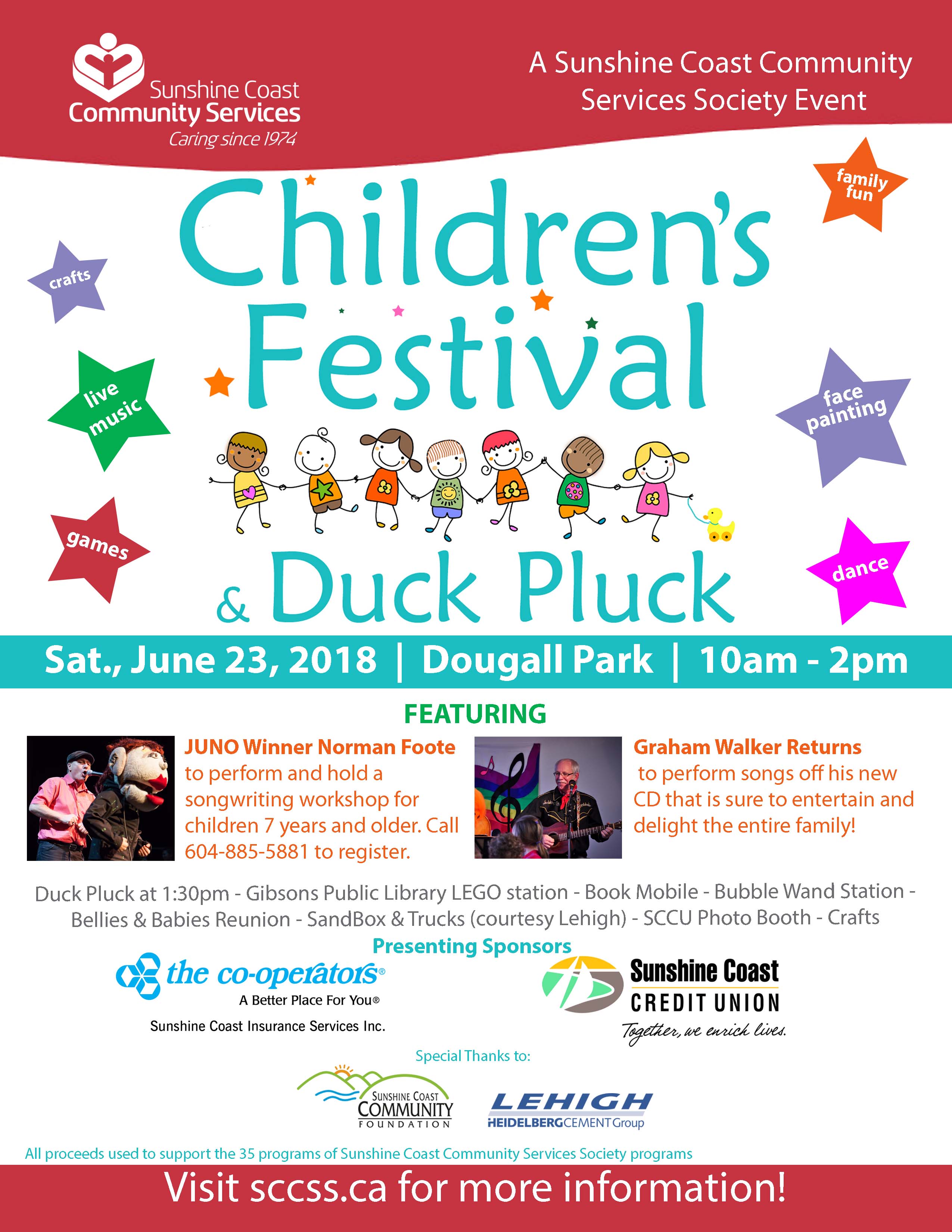 2018 Children's Festival
The Children's Festival and Duck Pluck is a family event held at Dougall Park on June 23, 2018 from 10am to 2pm. The event enriches the lives of children and families on the Sunshine Coast while delivering a magical afternoon of music, art, theatre and interactive games.
There will be a Bellies and Babies reunion, bubbles, book mobiles, food and lots of fun!
This year's event, sponsored by Sunshine Coast Credit Union and the Co-Operators, will feature a guest performance by the JUNO winner Norman Foote! Norman Foote puts his theatrical and comedic talents to use as he weaves stories and paints musical imagery that audiences respond to immediately. His hilarious adaptation of nursery rhymes sung by rock stars is a routine that defines his talent for creating material that can bridge the generation gap. He calls this a "twist on tradition". His claim to fame are his props with an attitude - simple by nature, fascinating by delivery. These characters enter the stage as inanimate objects and with the element of surprise and improvisation come to life, never failing to bring the house down with laughter and applause.
The Festival will also host several educational booths that provide information on childcare, nutrition, education and other issues impacting coastal families.
And the DUCKS are back!
Starting in May 11, we will be selling raffle tickets for the Duck Pluck! Tickets (one for $5 or 5 for $20) at various venues and locations throughout the coast (see list below). The Duck Pluck will take place at 1:30pm. Ducks will be plucked one by one. Each duck has a number that corresponds with sold raffle ticket numbers. Over 20 prizes are up for grabs, including:
2018 Duck Pluck Prize List
Kayak and Roof Rack from Canadian Tire
$350 BC Ferry Travel Vouchers
$250 MEC Gift Card
1-Day RIDE XL Paddleboard Rental with paddles and PFD's for six users from Trail Bay Source for Sports
Classic Massage from Shades of Jade Spa
Create Paint Night Gift Certificate
$25 Gift Certificate for Tailwind Books
Family Day Pass to The Hanger
Photography Package from Katie Bowen Photography
Gravity Park Pass
Children's Easel from Pastimes
Baby Activity Toy from Pastimes
Basted Baker Gift Certificates
Dominique's Dance Gift Certificates
London Drugs Gift Cards
Malaspina Ranch Stables Pony Rides
And many more!
Duck Pluck raffle tickets can be purchased until June 22, 2018 at the following locations:
SECHELT
Sunshine Coast Community Services Society office (5638 Inlet Ave.)
Sechelt Visitors Centre (

5790 Teredo St.)

Child Care and Resource Referral (CCRR, 5520 Trail Ave.)
Pastimes (5496 Trail Ave.)
GIBSONS
Community Services Thrift Store (731 North Road)
Laedeli Gifts and Cards (900 Gibsons Way, Sunnycrest Mall
All proceeds from the Children's Festival and Duck Pluck raffle goes to the Sunshine Coast Community Services Society, the largest non-profit on the Sunshine Coast.
We would like to thank our presenting sponsors: Sunshine Coast Credit Union and The Co-Operators (Sunshine Coast Insurance Services Inc.). And a special thank you to Lehigh Materials and the Sunshine Coast Community Foundation
_________________
Interested in sponsorship or raffle opportunities? Contact Devon Kennedy at dkennedy@sccss.ca.